The Tai Chi Notebook has made it into Feedly's top 20 martial arts blogs on the planet. Woot! I get a medal and everything. Look!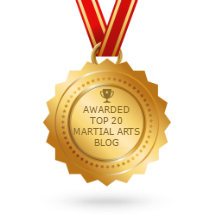 So, if you're looking for more martial arts blogs give their list a look-over. Nice to see Slideyfoot in there. Can Sonmez refereed at a BJJ competition I was in many moons ago, so at least that's somebody I've met. His blog is great – if you're into BJJ. (I also run a BJJ blog, so check that out if it's your cup of tea). I was a blue belt back then – here's my best match from that day.
Anyway, I've also been recommended by Qialance in their top 15 Tai Chi blogs if you want even more blogs to read. They also did an interview with me.